Argh. The rain, the cold, and just the annoyance of Texas weather. Going from warm to cold, and finally rainy would have put a cold into me, but I've been taking preventive measures as to not get one….because I get Bronchitis nearly every time it changes weather patterns. Texas weather hurts me, but luckily, this time I didn't a cold or Bronchitis. Hallelujah, actually! I don't need getting sick, plus I've been eating right, and losing that weight. I've lost 33 lbs now. Down 2 more lbs than last time. 227.8 which is great! I saw my relatives and they commented on my vast improvement but that was fine, because I'm growing more confident in myself and my body. I've said it before because I've always had bad self esteem due to my weight and all the bullying I had to endure by my father and etc;, but now I can say that I'm finally going into my own and just being myself. It's been difficult to be myself and just constantly be barged with insults and just terrible things because of what a number said on a scale. I am more than that number and while I can admit that weight does influence health in a lot of different ways, I know that but I also know that my number isn't all of me.
Then it was Thanksgiving and while I have no pictures about it, let us just say I had a wonderful time spending it with both sides of the family, though I couldn't stomach the islamophobia and Obama hate too much on the side of politics. My mother's brothers and etc; are very right winged and very conservative I would say, so listening to them talk about politics when I know they are just fearmongering makes me angry and want to debate them, but then I remember that I love them and that politics shouldn't divide people like it has.
My husband, Jose and I at my in laws on Thanksgiving!
I'm still voting though, and maybe getting my driver's license. I know I'll get that at least, though I have to study the yellow book hard before getting my driver's permit. It's different in the states than the rest of the world compared to what Georgie of my.georgie.nu had to go through. I know that I could just take a test and get a permit and then wait 6 months and learn how to drive through driver's ed. That cost money…but honestly, I don't know if I can function at driving. I still have a great fear in it.
Then my husband and I had to ask for money from my father. My father in-law but at this point, I'm his daughter and he even so, which warmed my heart. I think of him as my true father to be honest, other than my inlaws, because in actuality they take care of my husband, Jose and I greatly. So, it was difficult to ask for help when we had dwindling money, and that's partly the reason why I wanted to get into working again, if not part time. So, it was then we learned that my father wanted to open a snack and funnel cake shop and I even asked if I could work part time in that. You see he owns a restaurant and my family on my husband's side takes care of it. It's in Dallas of course, but he plans on opening that funnel cake shop in Arlington, and which I can help out. I'd love to be behind a register again instead of working by lifting boxes heavier than me. It's going to be a long job, for sure, but I'll make sure to take care of myself.
I don't mind eventually helping with another family business as they had many in the past. Though funnel cake is weird, considering I've never had it before hand, but we talked to him in great lengths and then he gave us money to help pay for bills and etc; because I don't start my job until Monday at 5pm. Yay!
And if you wondered this is how my real father and his people eat at Thanksgiving…my Salvadoran father and my people eat. It's different of course.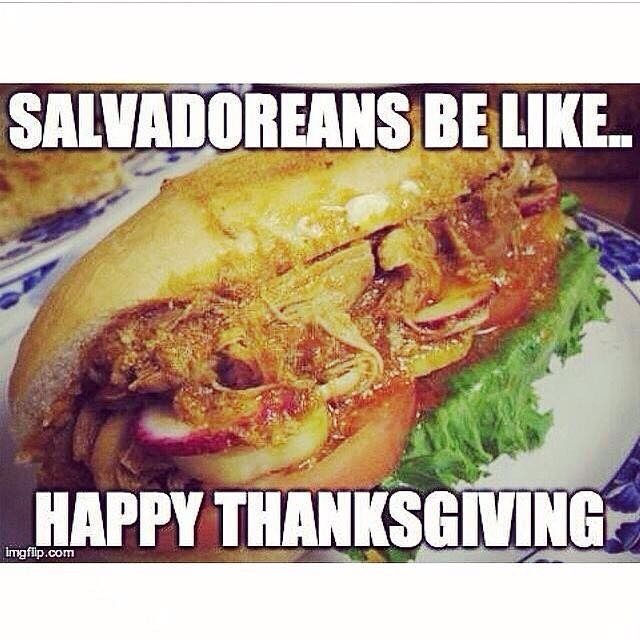 Panes Con Povo (Salvadoran recipe)