Posted on October 31st, 2015 in
Blog
,
Uncategorized
by Michelle.
So, I did it. I got my own domain and with that, I had a lot of learning curve to get through. I didn't know what this or that was and I had to sit through dozen of live chats to figure out some things. It was annoying but through the patience of those support teams, I was able to get dreaming-arcadia.com up. It's been a dream of mine to be independent in several ways, whether it be on web or not. The whole process was annoying and frustrating but the important thing was that I didn't give up when it became tough. I guess I don't learn. I guess I don't understand foolhardy tasks. I want to be functional like anyone else, really, and if that means getting a domain and just working on it, I'll do it. I may never learn coding, but I do know that I have a great set of friends to help me out.
Even in the real world, I have great friends and that's what counts. Lately, that's how its been for me. No more stress, but I know it's not easy to do the things I do, and to face the fear inside me. That's what I've been doing. I wasn't ready the first time but second time is the charm…somehow, I didn't know I could do it. Face the fears in me, and face what wasn't me and know the difference. What I wanted in my relationship with my husband and what I wanted with life. It's not easy to decide on something so momentous. That's what I'm doing again. Looking for work and I'm doing it through DARS: Texas Department of Assistive and Rehabilitative Services. Yes, I live in Texas, and somehow this should help me. The counselor was keeping it 'real' for me because at the end of the day, I have to do my thing that takes me out of the victim mode and become productive. DARS will help me. I want to keep my relationship with my husband,  so I have to keep being strong and trying my hardest.
I know what's in my heart and other people do too, and that's fine with me. As long as I'm not standing alone and have someone to hold my hand. I know eventually I can let go and walk again and that's okay with me. That's the point of learning and maybe being imperfect. Learning to make mistakes and accept them.
That's why I was okay at the Halloween party, my husband and I threw, but the rain ruined it and I mean a shit ton of rain. Rain that causes floods and life threatening flooding in certain areas of central Texas. Thank you Patricia? Thank you El Nino? I don't know who to blame for the rain. I should be grateful, but this much, too much rain is killer. But the most disappointed party was my husband because of the rain and how we planned the party a month in advanced and somehow the rain spoiled it, then people started being mean spirited and nasty to me and no replies. I get that the rain spoiled the party, but you at least would think people wouldn't get upset about it. We have a flash flood warning in my area. Yay! Again, our party was planned out in a month's advance…sigh. We didn't know the things we know now. Seriously.
I'm failing Intermediate Algebra by a few points. Geez. I gotta keep at it and just pull through somehow! Come on College Algebra!!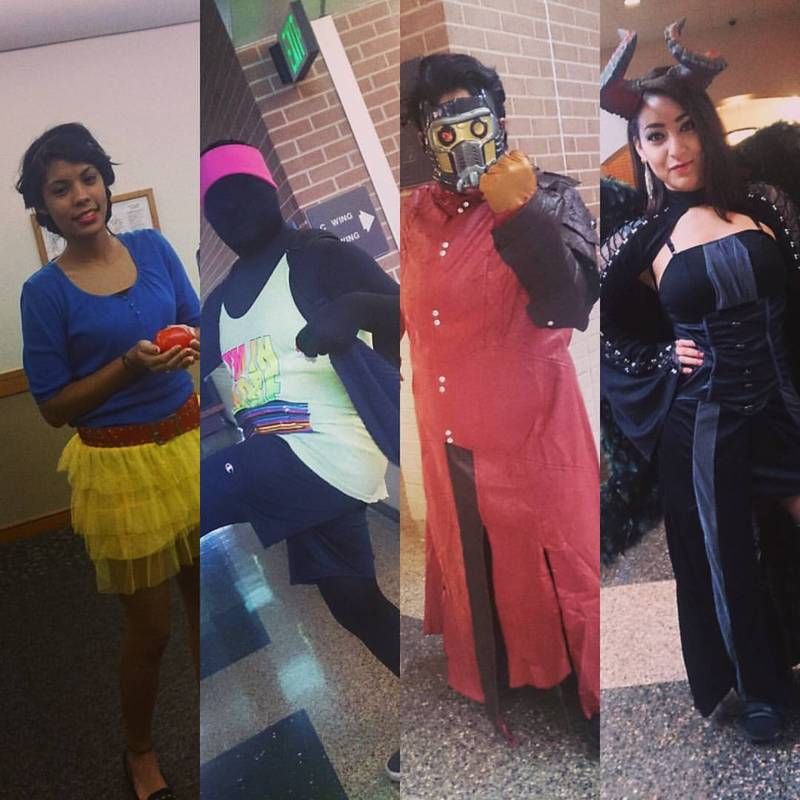 Some costumes I seen at school! 
I'm doing all right in my other two classes, which is great! Biology is such a blast, honestly! I love both of my teachers! I learn so much from them and then I take it heart, I really do. Everyone is so nice.  Things to look forward in November: Marley's Birthday and Thanksgiving, if I have one.
My favorite shot of her and the decorations!
Marley is about 45 lbs now and not even close to reaching maturity and when I get a job, I'll enroll her more into classes. She's heart-worm free and done with her steroids, and healing up nicely from the mange. Did you know that it takes Labradors a full 1 to 3 years to reach maturity? Also, I lost another pound.
31 pounds total.
Down from 230 to 229.  Originally was 260, and you can see that's a dramatic difference. My gynecologist would be so proud! I'm also losing the pounds so I can have children safely. That's another reason for losing this weight besides being healthy.
You would think my mother in law would be proud, but she isn't, but then again, there's always room for improvement. Saw the grandmother a few days ago and showed off our place to in laws and they liked it. it was the grandmother's birthday and we celebrated it. I think what saves me is not drinking soda that much. I completely cut it out as I've said before but I have sips here and there but never overwhelming and I don't eat to get full. I stop as soon as my stomach gets to that point. I can tell. I don't eat as much as I did before and can barely finish much. But yeah, thanks to the rain, can't do much except play video games!
Yay! Plus I have MBC America! KDRAMAS!